CAKE
"A cultural and a political state of affairs"
Cake hu Mëtt der 90er haart alternativ Gittare genee dat si gelooss, wat si waren a sinn amplaz mat Ironie a Mariachi-Influenzen an de Ring gaangen. Zwee Joerzéngt méi spéit erkennt ee si nach ëmmer ënner Honnerten erëm, wéi hir nei Single "Sinking Ship" beweist. Wat schonns ëmmer en Unikum war, brauch och net mat der Zäit ze goen. Dëse Freide spille Cake virun engem ausverkaaften Atelier. E Gespréich mam Sänger John McCrea.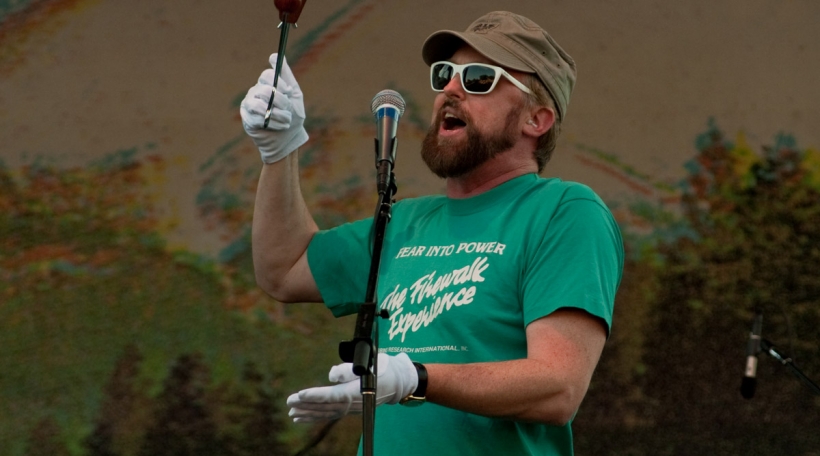 Marc Clement: Cake has been going since 1991, and you have been remarkably consistent with the music you have been putting out. Is this because you hold the reigns in terms of song writing pretty tightly?
John McCrea: It varies from song to song. I think, mostly, it has to do with an editorial rigidity - in terms of wanting to make an album that is within the boundaries of itself, a consistent work, where the songs are different, but also connected, in some way.
Your style is immediately recognizable, borrowing from country and funk but also rock and hip-hop. How did that magic mixture come together?
You know, initially we formed as a hostile negation of things that we didn't like in the mid-nineties. There was a lot of what I call "big dumb American Rock" just everywhere, and although it came in a sort of sub-cultural, alternative clothing, for me it was just giant-size, big-gulp kind of music, like grunge and so on, (although there was a lot of good grunge).
To me it wasn't anything subversive or new, it was really just a sort of excessive approach. And so, we decided to just turn the whole thing down, and go outside of rock music for our influences. We found that more interesting. For instance, to have a trumpet. I was listening to a lot of Mexican music at the time, and it just seemed like a good vehicle for melody.
Your lyrics and your voice can be on the sly, ironic side. On your last album "Showroom of Compassion", you have been a lot more vocal in terms of social commentary. Why has the political become more important over the years?
I still think the primary motive of a song is music. But inevitably, some of the biases and cultural landscapes from the people who deliver the music are going to come through, there is no purity. In the beginning of my journey, I tried to keep my cards closer to my chest. I think that was probably appropriate at the time, but today I think that was a luxury - and today I think some things just need to be said outright.
The two new singles you have, or are going to release ("Sinking Ship" and a cover of 5th Dimension's "Aquarius") are really quite different, a bit like two sides of the same coin. Was in intentional to have them work in tandem?
On our Facebook page, there is a sample video of the cover version, yes. "Sinking Ship" I started working on a long time ago and I couldn't finish it, partially because it seemed sort of hyperbolic and negative. And then, suddenly, in the last couple of years or so, it didn't seem quite so hyperbolic or unrealistically negative anymore. I was able to finish it, and we recorded "Aquarius" around the same time. It was perfect to me to have a balance of extreme pessimism and extreme optimism.
I have never felt so much like that's the most appropriate statement to make right now. In my life, I have never felt like there was such a capacity for devastation and terrible situations as now. At the same time, I have never felt like there is actually so much possibility for doing things that maybe we should have done a long time ago, positive things! It is really a reflection of how, right now, really anything is possible, and we could all just flush down the toilet, or start fixing things that should really have been fixed some 60 years ago.
How do social media play into the situation?
That has to be a part of it. Information and ideas are traveling very quickly now. Some of those ideas are destructive, and some are really positive. I'm hoping for the best, but certainly over here in the United States, things are getting pretty weird.
So is the Sinking Ship a cultural or a political state of affairs?
I think it's both. I like to write about processes as opposed to specific things. There's an element of politics, but it could also be taken as a song about a relationship between two people.
Is it important to you to keep that ambiguity in there?
Yes. The way I feel about it now, certainly. I don't know if I will feel this way forever. But It's not just about ambiguity, I also like things to be multi-purpose. I like to be able to sing a song that has two different narratives at the same time.
Are the two releases foreshadowing something more... is there an album in the works?
Yes, exactly. We'll actually release another single in spring, then another in late summer and an album in September-October.
Have the changes in the music industry changed your way of operating as a band?
I don't think anybody knows what to do right now, I mean people who make music. I don't think there is any convention anymore. The business of recorded music has pretty much been hollowed out. You know, most bands that are not really commercially successful, or pop bands, are having to tour kind of endlessly to make ends meet.
There is not much time for sitting around and writing music, or recording music for that matter, if you're on a bus or waiting in line at the airport. The emphasis is now more on live music, performance. Let's be blunt: giant Tech Industry corporations have found a way of monetizing music with or without the artist's consent, with advertising. That really takes a bite out of people's ability to make stuff and be able to pay for it. We have changed our delivery system, in the sense that we have started playing more new songs at our shows.
Do you enjoy playing live?
Yes I do. I don't enjoy traveling. I don't enjoy sitting all day on a bus. But I do enjoy that one or two hours of the day where there is music involved. But touring is not mostly about playing music... It's mostly about eating weird food and waiting in line.
When you play in Luxembourg, will there be only new songs? Will the fans of "fashion Nugget" and Comfort Eagle" be disappointed?
No. We don't impose new music on people. We include some new music, but we don't insist on it. We also don't use a set list. We tend to get on stage and just ask ourselves what song we feel like playing next. It usually works really well in the sense of not making us feel like a machine. I think we put on a better performance that way. Sometimes we forget to play a song that is really popular in that particular country or city, but most of the time it works really well.
Apart from the new album, where would you like to take the band in the future?
I would like to do exactly what I'm doing, which is: try to stay home long enough to record some music. But I have to be able to afford to do that. We do have to play shows in order to eat food. But if I can keep a good balance, play only enough shows for the amount of food that we need to eat, an no more, then we may be able to record some more music.
Obviously, I'm not recording music for the money, because there really Is no money in it, but because I love to do that. You used to go on tour to sell a record. Now it's the opposite. There are people who tell us to tour more, but I can't tour and write music at the same time.
What on your stereo?
Tom Ze. I think he's a genius. He's a Brazilian Singer-Songwriter, a bit like a Frank Zappa of Brazil but more melodic, it's really beautiful music.
Thank you for the talk!
Thanks for your interest, and I look forward to visiting you all.
---
The entire conversation with John McCrea: