Good music and a roundup of the day's news, presented by Benny Brown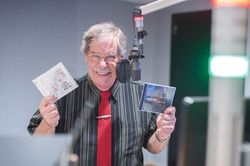 Benny Brown, what is your show's ambition?
Benny Brown: Time Out plays the mix of contemporary music that should be on the radio at drive time, but can be hard to find. The show will have a look at intelligent rock, traditional and up-to-date Blues, a few Luxembourgish artists, and occasionally a song that you've been hoping to hear again for years, but never thought you would. So, no Miley Smiley, no Kim Kar, no 99 Cents, no Jay-XYZ, no dirty words, no corporate sludge, plus you can even understand the lyrics!
Time Out also provides a quick round up of the day's domestic news. I'd like to make Time Out the daily meeting point of English speakers who are interested in getting a short and to the point version of the day's main events in Luxembourg. Everything you need to know, if you live and work here, in short and in headline style and without being swamped by all the
minute detail. But remember, this is a music show above all.
Can you tell us something about yourself?
Benny Brown: I am no stranger to the radio airwaves in Luxembourg. I have years of rock'n'roll radio experience. I was part of the Service Anglais on the famed Great 2-0-8, Radio Luxembourg. I brought Community Radio to the Grand Duchy a few semesters ago. I keep saying that radio is still the most fun I have ever had. You can hear it too: Billboard Magazine twice selected me as their International Radio Personality of the Year, both while on the air in Luxembourg.
Before coming to Luxembourg, I presented the daily morning breakfast program in Frankfurt on the American Forces Network, AFN. Some radio work in London for a few years, and it all began back in the USA when I was a teenager. I'd take the family lawn mower to the nearby rock station and cut the station's lawn in return for free records. After a while, I convinced the boss to let me move from the lawn to the studio, and that meant real money instead of complimentary discs.
It's Time Out, with Benny Brown. We'll be expecting you!