Mediathéik
09:00 - 12:00

Moies-Magazin

11:57

Holger Czukay - Cool In The Pool

11:52

Anthologie: The Rebirth Of Nu-Cool Tributes- Cool Tempo (Cd 2) - Bebo Best & The Super Lounge Orchestra - Come As You Are

11:46

Udo Lindenberg - Coole Socke

11:43

Isaak, Chris - Don't Make Me Dream About You

11:36

Astrud Gilberto - Água De Beber

11:32

Little Feat - Lonesome Whistle

11:26

Conexión Cubana - Bailala Pegaito

11:23

Jones, Keziah - Liquid Sunshine

11:09

Meena Cryle & The Chris Fillmore Band - I Shoot You Down

11:05

The Beach Boys - Good Vibrations

10:56

George Benson - Never Give Up On A Good Thing

10:53

Willard Burton & The Pacifiers - Warm The Pot (Til It's Good and Hot)

10:04

Double Jam - Bacardi Feeling

09:55

Götz Alsmann & WDR Big Band - Denn meine Liebe hält mich warm

09:52

Talking Heads - The Good Thing

09:48

Pink Martini: Hey Eugene! - Dosvedanya Mio Bombino

09:35

Turner, Tina - Let's Stay Together

09:30

The Commodores - Easy

09:25

Sonic Season - Midsummer Night's Dream

09:15

Gemma Ray - Summer Comes

09:09

The Rolling Stones - Love Is Strong

09:05

Laidback - Sunshine Reggae

08:55

R.E.M. - Electrolite

08:52

Mocky - Sweet Things

08:48

AM60 - Just a Dream

08:40

Lighthouse Family - I Could Have Loved You

08:33

Christina Kalyss - Stoner Boy

08:26

Blanchoud, Stéphanie - Les Beaux Jours

08:19

John Lennon - Imagine

08:12

Chris Rea - Moving On

07:56

Kaas, Patricia - Kennedy Rose

07:49

Adrian - Discontinuous

07:27

Alexis HK - Zouzou

07:19

Nicholas Krgovich - Country Boy

07:12

David Kitt - Still Don't Know

06:56

Frazey Ford - September Fields

06:53

Bénabar - A Notre Santé

06:46

Norah Jones - Come Away With Me

06:40

Nils Landgren & Joe Sample - I Can´t Get Enough Of Your Love

06:33

Claude - Animal Cruelty

06:25

Jakob Dylan - Will It Grow

06:16

Ray Bonneville - Dance With Me

06:11

Keb Mo - Rock Me On The Water

06:05

Elton John - Rocket Man

05:57

Benoît Martiny Band - F Tthe W

05:54

Rome - One Lion's Roar

05:50

Adrian - Discontinuous

05:44

Aamar - Home

05:41

Dream Catcher - J'veux du Soleil plein la Vie

05:37

Seed To Tree - I Wouldn't Mind

05:34

Spleen Feat. Maxime Bender - Jenny

05:30

Bartleby Delicate - Heads To The Wall

05:26

Serge Tonnar & Legotrip - Mir Wëllen Iech Ons Heemecht Weisen

05:20

Maxime Bender - Fy

05:17

Christina Kalyss - DTMWTD

05:13

Trappers - Sound of Life

05:09

Irina - You Appeared To Me

05:06

Claudine Muno - Upstairsdownstairs

05:02

Monophona - Lada

05:00

Matt Dawson - Summer Of '99

04:57

Boy - No Sleep For The Dreamer

04:50

June: Archange - Archange

04:46

Charly B - Step by Step

04:42

Hotel Prestige: Take A Souvenir From Your Teenage Confusion - Falling In Love

04:38

Staring Girl - Matratzenladenneonröhrenlicht

04:35

Declan O'Rourke - Let's Make Big Love Feat. John Prine and The Milkspots

04:30

The Undercover Dream Lovers - Good Luck

04:27

Norah Jones - It's A Wonderful Time For Love

04:23

Foxygen - Avalon

04:19

Spirit Fest - Rain Rain

04:16

Domenico+2 - Felizes Ficaremos Na Estrada

04:12

The Specials A.K.A. - What I Like Most About You Is Your Girlfriend

04:10

Leon Of Athens - Fire Inside You

04:06

Beth Hart - Love Is A Lie

04:04

Pete Astor - Mr. Music

04:00

Boy - Hotel

03:56

Igor Stravinsky: Feuerwerk, Op. 4 - Rotterdam Philharmonic Orchestra, Valery Gergiev (Dir.)

03:50

Giovanni Paisiello: Ouverture a Ré Majeur aus der Oper Proserpine - Collegium Philarmonicum Chamber Orchestra, Gennaro Cappabianca (Dir.)

03:38

GEORG FRIEDRICH HÄNDEL: Sonat a Mi bémol Majeur, HWV 379 - Dorothea Seel (Querflütt), Luca Guglielmi (Cembalo)

03:19

Wolfgang Amadeus Mozart: Concerto fir Gei an Orchester Nr.2 a Ré Majeur, K. 211 - Anne-Sophie Mutter (Gei & Dir.), London Philharmonic Orchestra

02:24

Wolfgang Amadeus Mozart: Grouss Mass an Do Mineur, KV. 427 - Wegener (S.), Harmsen (S), Balzer (T.), Rathgeber (B.), Kammerchouer an Hofkapelle Stuttgart, Bernius (Dir.)

02:00

Felix Mendelssohn Bartholdy: Concerto fir Gei a Ré Mineur - Rebekka Hartmann (Gei), Salzburg Chamber Soloists, Lavard Skou Larsen (Dir.)

01:57

Brillant, Dany: jazz...A La Nouvelle-Orléans - J'habitais Saint-Germain-Des-Prés

01:53

Al Jarreau - I'm Beginning To See The Light

01:47

Anthologie: Bar Jazz 3 - Cd3: 'round Midnight - Getz, Stan - The Peacocks

01:43

Anthologie: Saint-Germain Des -Prés Café (Cd 1/10) - Krall, Diana - As Long As I Live

01:37

Anthologie: Jazz Gipfel Tufa Trier - Fh-Band - Blue Steps

01:31

Anthologie: Svensk Jazzhistoria (Cd 3/3) - Stan Getz And His Swedish Jazzmen - Honeysuckle Rose

01:26

Kid Colling - I Don't Care

01:18

The Three Tenors - This is for Albert

01:10

Mouzon, Alphonse Quintet: Live In Hollywood 1999 - The Baker's Daughter

01:05

Imbert, Diego (Quartet): À L'ombre Du Saule Pleureur - En Cas De Coup Dur...

01:00

Dee Dee Bridgewater, Irvin Mayfield & The New Orleans Jazz Orchestra - One Fine Thing

00:59

Beth Hart - Jazz Man

00:55

Blues Club Lëtzebuerg - Hooker, Zakiya - Love Foreclosure

00:51

Delpech, Michel: Sexa - Je Passe À La Télé

00:48

Sleeping At Last - Next to Me

00:44

De Montevert - It's Allright I'm Probably Dreaming

00:42

Charles Aznavour - For me, formidable

00:37

Anthologie: Re-Press - The 70's Soul Revival (Cd 2) - Deodato, Eumir - Whistle Bump

00:34

Georgia Ruth - The Doldrums

00:28

Ray Davies - The Getaway

00:25

Pauline Paris - Nous ne nous serions pas connus

00:22

Anthologie: Printemps Musical 2010 - World Music (Cd 2) - Hayseed Dixie - Highway To Hell

00:20

That Red Head - Going Up The Country

00:17

Larkin Poe - Crown Of Fire

00:12

Toke - At The Edge

00:08

Lukas Nelson And Promise Of The Real - Fool Me Once

00:05

MV & EE - Feel Alright

00:03

Betty Everett - You're No Good

00:00

Sam Evian - I Need A Man
18:56

Reinhard Mey - Nachtflug

18:52

Metronomy - Salted Caramel Ice Cream

18:43

Anthologie Putumayo: Acoustic France - Escrocs, Les - Assedic

18:34

Ten Fé - Won't Happen

18:27

Mosquitos - Lights Pass By

18:24

The Doors - Wishful Sinful

18:20

Ryan Adams - To Be Without You

18:11

Mighty Oaks - Storm

17:56

Nick Waterhouse - Katchi Feat. Leon Bridges

17:49

Irina - Let Me Sing To You

17:43

Karen O & Danger Mouse - Turn The Light

17:35

Les Marathonians - Toi Et Le Soleil

17:28

Sh'napan - Godfrey

17:25

Thomas Dybdahl - 3 Mile Harbor

17:24

Wolfmother - City Lights

17:19

Gruff Rhys - Selfies In The Sunset

17:08

Heather Nova - Just Kids

16:56

Spoon - No Bullets Spent

16:52

Tame Impala - Patience

16:50

Julia Jacklin - Pressure To Party

16:46

Brijean - Walkie Talkie

16:41

Hot Chip - Hungry Child

16:39

Slowthai - Gorgeous

16:36

PowerSolo - That Pop Song

16:32

Charlotte Adigéry - Cursed And Cussed

16:28

Black Midi - Bm Bm Bm

16:25

Idles - Mercedes Marxist

16:21

Sam Fender - Hypersonic Missiles

16:18

Anderson Paak - King James

16:15

Sheer Mag - Blood From A Stone

16:11

Barrie - Geology

16:07

Rolling Blackouts Coastal Fever - In The Capital

16:04

Ant Antic - Whoop!

15:58

Pixx - Andean Condor

15:54

Gang Of Four - Change The Locks

15:51

Ay Wing - Drive By Feat. Shuko

15:48

Sinkane - Ya Sudan

15:44

Kate Tempest - Firesmoke

15:40

Honeyblood - She's A Nightmare

15:37

Stormzy - Vossi Bop

15:32

Heather Nova - Just Kids

15:30

The Doors - Wishful Sinful

15:26

The Clash - Should I Stay, Or Should I Go

15:24

Mattiel - Food For Thought

15:21

Cypress Hill - Crazy

15:18

Kojey Radical - Can't Go Back

15:13

Roosevelt - Falling Back

15:10

Liam Gallagher - Shockwave

15:06

Greta Van Fleet - Lover, Leaver

15:04

Fontaines DC - Sha Sha Sha

15:00

The Raconteurs - Help Me Stranger

14:54

Michael Nyman: Jack the Ripper Stalks His Victims: MGV 1st Region - Michael Nyman Band & Royal Liverpool Philharmonic Orchestra

14:49

Wolfgang Amadeus Mozart: Sonat fir Piano Nr.11 a La Majeur, K331 Alla Turca, III. Alla turca - Allegrino - Jean Muller (Piano)

14:45

Antonio Vivaldi: Concerto an Do Majeur, RV 443, III. Allegro molto - Fumito Nunoya (Marimba), Kurpfälzisches Kammerorchester, Johannes Schläfli (Dir.)

14:24

FASCH, JOHANN FRIEDRICH: Ouverture in D minor - Menuet - Il Fondamento

14:23

FASCH, JOHANN FRIEDRICH: Ouverture in D minor - Gavotte - Il Fondamento

14:20

FASCH, JOHANN FRIEDRICH: Ouverture in D minor - Air - Il Fondamento

14:00

Wolfgang Amadeus Mozart: Concerto fir Piano Nr.27 a Si bémol Majeur, K. 595, III. Rondo. Allegro - Julien Libeer (Piano), Les Métamorphoses, Raphaël Feye (Dir.)

12:00 - 14:00

Iwwer Mëtteg

13:57

Alela Diane - Black Sheep

13:52

Angus & Julia Stone - Big Jet Plane

13:48

Donavon Frankenreiter - Glow

13:35

José González - Every Age

13:26

Tops - Way to be Loved

13:15

Irina - Maria

13:04

Nick Mulvey - Mountain To Move

12:57

Whyte Horses - The Best of It Feat. La Roux

12:55

Antoine Hénaut - Jolie Fleur

12:47

Kakkmaddafakka - Young You

12:44

Edsun - Lisa

12:33

Modern Howls - 2AM, Chinatown

12:25

Bob Marley & The Wailers - Who The Cap Fit

12:17

The Choppy Bumpy Peaches - Darjeeling

12:12

Boy & Bear - Real Estate
22:10 - 23:00

Jazz, Rock a Gaardebounen

22:58

Bartleby Delicate - A Little Less Home

22:55

No Metal In This Battle - Assfro

22:52

Plankton Waves - We Are

22:47

Bleu Nuit - Oblivion

22:44

Falc'ero - Amsterdam

22:42

Daniel Balthasar & Fox - Capacity

22:38

T 42 - Christmas In July

22:33

Metro - I Know I Can Never Really Make It Up To You Now

22:30

Marly Marques Quintet - 21st Century Man

22:27

Daniel Balthasar & Band - I Don't Believe In You

22:23

Arthur Possing Quartet - Picturesqueote

22:20

Tuys - About To Go

22:17

De Läb - Verännerung Vs. Stëllstand

22:14

Jeneli & The Barely Legals - Summer Girl

22:10

Serge Tonnar & Legotrip - Ech si Lëtzebuerg

19:53

Hugh Masekela - Afro Beat Blues Feat. Ojah

19:49

Smoove - I'm A Man

19:40

Allan Taylor - Wheel Of Fortune

19:37

Anthologie: Bravo Hits 43 (Cd 1) - Fame Academy Feat. Winter, Gerrit - Life Is A Rollercoaster

19:29

Presley, Elvis - A Fool Such As I

19:28

Presley, Elvis - I Got Stung

19:21

Garrett Kato - Sweet Jane

19:17

The Commodores - Too Hot Ta Trot

19:14

Hounds - White Rabbit

19:07

The Jolly Brothers - Conscious Man
"I'm really happy to be back on air in the Grand Duchy, which is where it all started for me and will endeavor to fill the airwaves with humorous and insightful observations on Luxembourg life combined with the best guests and music that you have come to expect from 100,7."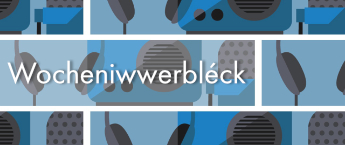 Europa ass e feste Bestanddeel am Alldag vu senge Bierger. Mee mécht sech d'EU am deegleche Liewe vun den Europäer bemierkbar? Wat bréngt d'Europäesch Unioun senge Bierger? Mir weise konkret Beispiller.

Den 20. November ass de Weltdag vun de Kannerrechter. De radio 100,7 presentéiert an deem Kader verschidde Reportagen an Interviews, fir iwwer d'Rechter vun de Kanner opmierksam ze maachen.
Iwwert eis
De radio 100,7 ass deen eenzegen ëffentlech-rechtleche Radio zu Lëtzebuerg. E proposéiert Programmer op Lëtzebuergesch mat engem Fokus op Informatioun, Kultur, Divertissement a mat Akzent op d'klassesch Musek.
Weider liesen