Mediathéik
09:00 - 12:00

Moies-Magazin

11:58

Die Höchste Eisenbahn - Blume

11:54

Cream - White Room

11:49

D/troit - Let There Be Rock

11:47

Panjabi MC - Mundian To Bach Ke

11:43

Neil Young - When You Dance You Can Really Love

11:34

Irina - Putting My Heart On Sale

11:30

Jeff Tweedy - Some Birds

11:26

Sérgio Godinho - Liberdade

11:22

Jesca Hoop - Animal Kingdom Chaotic

11:19

Funky P - Heaven Is Around The Corner

11:09

The Byrds - Mr. Tambourine Man

11:05

David Byrne & Brian Eno - Strange Overtones

10:54

Radiohead - Jigsaw Falling Into Place

10:48

Camille - Fontaine De Lait

10:31

Jean Ferrat - Nuit Et Brouillard

10:05

Eels - Mystakes Of My Youth

09:56

Coeur De Pirate - Mistral Gagnant

09:52

The Good, The Bad & The Queen - Merrie Land

09:40

Brothers Johnson - Strawberry Letter 23

09:37

Band of Horses - No One's Gonna Love You

09:27

The Magic Numbers - Throwing My Heart Away

09:21

Konstantin Wecker - Absurdistan

09:17

Julien Arpetti - Surtout Pas Réfléchir

09:10

Big Thief - UFOF

09:05

David Bowie - Ashes To Ashes

08:57

Raphael Saadiq - So Ready

08:53

Ona - Summer Candy

08:47

Mark Rae - Medicine

08:43

Yo La Tengo - Season Of The Shark

08:34

The Emotions - My Honey And Me

08:26

Morcheeba - Rome Wasn't Built In A Day

08:17

Stephen Steinbrink - Bad Love

08:10

Field Music - Count It Up

07:56

Champs - Vamala

07:47

Alt-J - Breezeblocks

07:27

Wild Nothing - Partners In Motion

07:19

Angus & Julia Stone - Cellar Door

07:12

The Police - Message In A Bottle

06:56

Diana Ross - Love Hangover

06:53

Jamie Cullum - The Man (From King Of Thieves)

06:50

Beirut - Gibraltar

06:41

Daniel Balthasar - Home

06:34

Anemone - Bout De Toi

06:26

Get Well Soon - We Are Free

06:23

Girls - Oh So Protective One

06:10

Parliament - Breakdown

06:05

Primal Scream - Movin' On Up

05:55

The War On Drugs - Up All Night

05:51

Sir Was - No Giving Up

05:48

Townes Van Zandt - If I Needed You

05:45

Sudan Archives - Glorious

05:41

Anna Calvi - As a Man

05:37

Bright Eyes - Easy / Lucky / Free

05:31

Serge Tonnar & Legotrip - Lokalmatador

05:28

Cones - Later

05:25

Astrud Gilberto - Photograph

05:21

Jenny Hval - Accident Feat. Laura Jean

05:18

Devendra Banhart - Fig in Leather

05:15

Jimi Hendrix - The Wind Cries Mary

05:11

Charlotte Gainsbourg - Bombs Away

05:07

Corbi, Godié, Kalo De 78, Gospel Emcee, Fizé, Valkilla, T The Boss - Hamilius

05:03

Black Pumas - Fire

05:00

Beck - Loser

04:56

Ryan Adams - Come Pick Me Up

04:51

Tame Impala - Patience

04:47

Average White Band - Pick Up The Pieces

04:44

Frances Quinlan - Rare Thing

04:40

Hal Flavin - The Talk

04:37

Black Milk - Could It Be

04:33

-M- - Qui De Nous Deux

04:28

Bedouine - Dusty Eyes

04:22

Monomono - Give The Beggar A Chance

04:17

Cornelius - If You're Here

04:12

Mutiny On The Bounty - Ballet Mécanique

04:08

Allah-Las - Star

04:03

Mad Season - Long Gone Day

04:00

Generationals - Breaking Your Silence

03:51

Gioachino Rossini: Guillaume Tell - The Hanover Band, Roy Goodman (Dir.)

03:41

Derek Bourgeois: Concerto fir Trombonn, Op. 114, I. Allegro - Marc Meyers (Trombonn), Musique Militaire Grand-Ducale, André Reichling (Dir.)

03:33

Claude Debussy: La Mer, I. De l'aube à midi sur la mer - Orchestre Philharmonique du Luxembourg, Gustavo Gimeno (Dir.)

03:22

Harald Genzmer: Tranquillo - Berliner Saxophon Quartett

03:13

Pyotr Ilyich Tchaikovsky: Sérénade Mélancolique fir Gei an Orchester a Si bémol Mineur, Op. 26 - Moonkyung Lee (Gei), London Symphony Orchestra, Miran Vaupotic (Dir.)

03:10

Domenico Scarlatti (arr. Charles Avison); Domenico: Concerto grosso Nr.12 a Ré Majeur, VI. Allegro - Academy of St. Martin in the Fields, Neville Marriner (Dir.)

03:05

Domenico Scarlatti (arr. Charles Avison); Domenico: Concerto grosso Nr.12 a Ré Majeur, III. Allegro spiritoso - Academy of St. Martin in the Fields, Neville Marriner (Dir.)

03:04

Domenico Scarlatti (arr. Charles Avison); Domenico: Concerto grosso Nr.12 a Ré Majeur, II. Largo tempo giusto - Academy of St. Martin in the Fields, Neville Marriner (Dir.)

03:02

Domenico Scarlatti (arr. Charles Avison); Domenico: Concerto grosso Nr.12 a Ré Majeur, I. Grave temporeggiato - Academy of St. Martin in the Fields, Neville Marriner (Dir.)

02:34

Wolfgang Amadeus Mozart: Sonat fir Piano a Si bémol Majeur, KV 333 - William Youn

02:13

Pjotr Iljitsch Tschaikowski: Fantasie Ouverture Romeo an Juliet - Rotterdam Philharmonic Orchestra, Valery Gergiev (Dir.)

02:10

Georg Philipp Telemann: Concerto fir dräi Geien a Fa Majeur, III. Vivace - Freiburger Barockorchester

02:05

Georg Philipp Telemann: Concerto fir dräi Geien a Fa Majeur, II. Largo - Freiburger Barockorchester

02:00

Georg Philipp Telemann: Concerto fir dräi Geien a Fa Majeur, I. Allegro - Freiburger Barockorchester, Petra Müllejans (Dir.)

01:54

Angel Olsen - Heart Shaped Face

01:51

Aretha Franklin - Think!

01:47

The S.L.P. - Trance

01:44

Mattiel - Food For Thought

01:40

Blur - Girls & Boys

01:32

Klein - Fake Borders

01:29

Diagrams - Gentle Morning Song

01:26

Ramones - I Wanna Be Sedated

01:23

Hearts Hearts - Ikarus (I Feel a Change)

01:18

St. Vincent - Los Ageless

01:16

The Velvet Underground - Stephanie Says

01:13

Corine - Il Fait Chaud

01:08

Seed To Tree - Lack Of Proportion

01:04

Efterklang - I dine øjne

01:00

Metronomy - The Look

00:55

Elton John - Someone Saved My Life Tonight

00:51

Heather Nova - London Rain (Nothing Heals Me Like You Do)

00:48

Andrew Bird - Are You Serious

00:44

Townes Van Zandt - Pancho & Lefty

00:41

Anderson Paak - Jet Black Feat. Brandy

00:37

Claire Parsons - Start A War

00:34

Man And The Echo - A Capable Man

00:28

Bill Callahan - Sycamore

00:25

Dan San - Dream

00:23

Automatic - Too Much Money

00:19

Curtis Mayfield - Superfly

00:15

Arthur Beatrice - I Don't Get That Chill

00:10

Raquel Barreira - 7 Colinas

00:08

Danny Brown - Best Life

00:02

Wild Beasts - The Fun Powder Plot

00:00

Eels - Today Is The Day
18:54

Pizzagirl - Ball's Gonna Keep On Rollin'

18:51

Dominique A - Le Temps Qui Passe Sans Moi

18:43

Blur - Country House

18:34

Tom Waits - Cold Cold Ground

18:27

Franz Ferdinand - Take Me Out

18:21

Alain Bashung - Osez Joséphine

18:12

Noel Gallagher's High Flying Birds - Black Star Dancing

17:56

Courtney Barnett - City Looks Pretty

17:47

Alonzo Smith - Love Machine

17:41

Paradis - Garde Le Pour Toi

17:34

Andrea Fornari - Stormy Water

17:27

Chris Cohen - Green Eyes

17:23

Eagles - One Of These Nights

17:18

Cajsa Siik - Sad Celebration

17:09

The Magic Numbers - This Is A Song

16:56

Joesef - Limbo

16:52

Kojey Radical - 2020

16:49

Compact Disk Dummies - Satellites Feat. Tom Barman

16:46

Field Music - Only In a Man's World

16:41

Blue Material - Personal

16:38

Hearts Hearts - Ikarus (I Feel a Change)

16:36

Sam Fender - Will We Talk

16:32

Otherliine - Chimes

16:27

Yvon - Der Junge Atlantik Lebt

16:24

MNNQNS - Fall Down

16:20

The Black Keys - Walk Across The Water

16:17

Indianizer - Hypnosis

16:07

Bakar - Hell N Back

16:05

Caribou - Home

15:55

Vagabon - Water Me Down

15:52

Jacques Greene - Do It Without You

15:49

Sudan Archives - Confessions

15:46

Missy Elliott - Throw It Back

15:46

Sudan Archives - Confessions

15:41

The S.L.P. - Trance

15:37

Michael Kiwanuka & Tom Misch - Money

15:33

Greentea Peng - Mr. Sun (Miss Da Sun)

15:31

Salami Rose Joe Louis - Cumulous Potion (For The Clouds To Sing)

15:30

Salami Rose Joe Louis - Earth Creature

15:20

Friendly Fires - Lack Of Love

15:16

Sampa The Great - Final Form

15:13

Liam Gallagher - Once

15:10

Sparkling - I Want to See Everything

15:05

Black Marble - Feels

14:54

Luigi Boccherini: Sinfonie Nr.6 a Ré Mineur, G.506 La Casa del Diavolo, I. Andante sostenuto - Allegro assai - Pulcinella Orchestra, Ophélie Gaillard (Dir.)

14:49

Vincenzo Bellini: Ah! bello a me ritorna, Oper: Norma - Elena Mosuc (Sopr.), Symphony Orchestra of Croatian Radio-Television, Ivo Pipanovic (Dir.)

14:45

Giovanni Paisiello: Sinfonia d'Opera: Allegro vivace - Collegium Philarmonicum Chamber Orchestra, Gennaro Cappabianca (Dir.)

14:24

Franz Schubert: Marche Militaire N.1 - Philippe Entremont (Piano), Gen Tomuro (Piano)

14:13

Johann Sebastian Bach: Brandenburgisches Konzert Nr. 3 a Sol Majeur, BWV 1048, I. - Zefiro, Alfredo Bernardini (Dir.)

14:06

Ludwig van Beethoven (arr. Stephan Koncz); Ludwig : Swing on Beethoven - Philharmonix

12:00 - 14:00

Iwwer Mëtteg

13:58

Low Island - Long Answer

13:54

Yo La Tengo - You Can Have It All

13:48

Charlotte Bridge - The Fog

13:36

Brigid Mae Power - I'm Grateful

13:31

Erlend Oye - Bad Guy Now

13:25

Juliette Gréco - Paris Canaille

13:20

Metro - I Know I Can Never Really Make It Up To You Now

13:16

Get Well Soon - Eulogy

13:13

Kadhja Bonet - Childqueen

13:07

Element Of Crime - Ohne Dich

13:04

Sebastien Tellier - Divine

12:56

Erykah Badu - Didn't Cha Know

12:53

Robert Forster - Inferno (Brisbane In Summer)

12:44

Fever Fever - It All Belongs To You

12:41

Plankton Waves - We Are

12:33

Dick Annegarn - Bruxelles

12:28

Bibio - Old Graffiti

12:22

The xx - Crystalised

12:11

Bob Moses - Back Down
23:55

Kadhja Bonet - Delphine

23:53

Caribou - Home

23:49

Big Thief - Shark Smile

23:45

!!! (Chk Chk Chk) - AM / FM

23:42

Anger - Miami

23:39

Angel At My Table - Embers

23:34

The Velvet Underground & Nico - I'm Waiting For The Man

23:31

Parcels - Lightenup

23:27

Bon Iver - Skinny Love

23:23

Jesca Hoop - Memories Are Now

23:20

No Metal In This Battle - Assfro

23:16

Auragraph - Polywave

23:12

The Doors - Back Door Man

23:10

Sam Fender - Will We Talk

21:55

Indianizer - Mazel Tov II

20:57

Squid - Match Bet

20:50

Land Of Kush - Trema

20:44

??????•?)?? ?? ??????? ?? - ????????????(O?)??????????? ?(? ?? ???????????????????????

20:40

Pinegrove - Phase

20:34

Office Culture - Hard Times In The City

20:29

Dan Deacon - Sat By A Tree (Edit)

20:23

Beck - Dark Places

20:17

Kate Davis - Open Heart

20:11

Easy Life - Sangria Feat. Arlo Parks

20:06

Lambchop - So Modern So Tight

20:00

La Roux - International Woman of Leisure

19:54

Hooters - All You Zombies

19:52

Vampire Weekend - Holiday

19:44

James, Etta: The Best Of...(Millennium Collection) - All I Could Do Was Cry

19:41

James Brown And The Famous Flames - Night Train

19:32

The Cure & James Mc Cartney - Hello Goodbye

19:26

Taylor, James: The Best Of... - Sweet Baby James

19:17

Dianne Reeves - Today Will Be A Good Day

19:08

The James Hunter Six - Heartbreak
Introducing our new shows in English! Join us on our voyage to bridging the gap between diverse communities within Luxembourg. Get a kick from our two English-speaking hosts as they bring a new flair to the radio.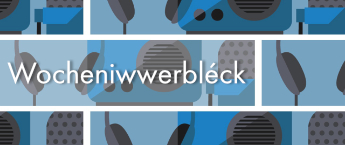 Den 20. November ass de Weltdag vun de Kannerrechter. De radio 100,7 presentéiert an deem Kader verschidde Reportagen an Interviews, fir iwwer d'Rechter vun de Kanner opmierksam ze maachen.

De Roberto Traversini ass als Buergermeeschter an Deputéierten zeréckgetrueden. Hannergrond sinn Autorisatioune fir d'Aarbechten un engem Gaardenhaischen an d'Fro, ob hie bevirdeelegt ginn ass.
Iwwert eis
De radio 100,7 ass deen eenzegen ëffentlech-rechtleche Radio zu Lëtzebuerg. E proposéiert Programmer op Lëtzebuergesch mat engem Fokus op Informatioun, Kultur, Divertissement a mat Akzent op d'klassesch Musek.
Weider liesen