Interview Lau
"Snapshots of life on this big island"
Lau's latest record Midnight and Closedown sees the Scottish folk trio delve further into subtle sound experimentation. A talk with Lau's singer and guitarist Kris Drever, about working with John Parish, the spectre of Brexit and the delights of fatherhood.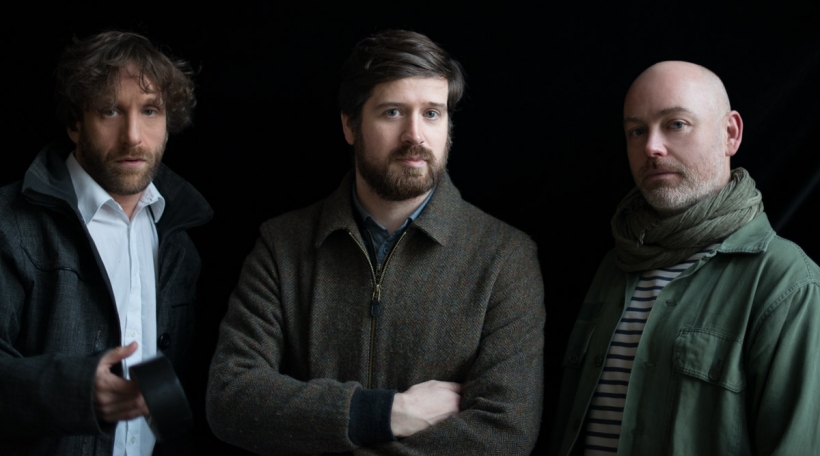 Jamie Reinert: Lau is a folk project which has become more and more experimental over the years. Your new record features a great deal more electronics and, Kris, I see that you play the electric guitar quite a bit nowadays.
Kris Drever: Yes, quite a lot of that... which in itself is not experimental.
No, but it's getting away from the traditional folk conception.
Yes, or maybe getting away from the traditional folk preconception (laughs)
Yes, that's putting it better. (laughs)
I think there are still people for whom folk is a dirty word, although not loads. We all grew up from the folk music scene so it's a very natural place for us to inhabit, but obviously everybody looks for new things, wants to try new things. And we're no different in that regard.
The new record was produced by John Parish, the PJ Harvey collaborator and a very sought-after producer. Concerning the band, he said that you're in touch with your roots but not bound by them.
I think it's a very nice way of putting that. John's a man of well-chosen words. He's a thoughtful guy, he's got a great deal of worth in his musical thinking. We're not bound by the roots. I don't know how we would be. Scotland's such an open place and people really embrace different and new ideas. So it's a natural thing for us to go out and push these things a little bit.
So how did working with John Parish come about?
Well, we're kind of a democratic band but we like to make sure we always have a producer in the studio. We could self-produce of course, we're all grown-ups and we've made loads of records with different people. However, there's something about having that extra voice that's from outside the three. That really helps. I think we maybe spoke to him through a mutual friend actually. He was keen straight away to do the thing, so it was a pretty straightforward process in that regard. We didn't have to climb a mountain with pails of water strapped to our backs.
How did he influence the sound of the record?
Well just in the way he sets up his process I suppose. He's a very chilled out guy, or at the very least, he's very laid back and he only says things if he feels strongly about something I would say. I think producers have their own sonic aesthetic and he would have brought that to bear to some degree on the recording, but maybe more on the mixing side of things. So really, it's mostly about his presence and the decisions he took while we were together.
So coming out of that experience, what do you keep in mind from John Parish. What's the one thing you've learnt from working with him?
There are loads and loads of things you know. He's such a powerful musical mind and so confident and relaxed in the studio and such lovely company. But maybe, this might sound glib, but I don't mean it to, but in the entire week we were together he didn't swear once. (laughs) There was something lovely about that. Not the most important of his contributions but it was an interesting thing. I can't remember the last time I met someone who didn't swear at all. (laughs)
I had the chance to meet him once, and he's very lovely. You kind of go out of the experience thinking "how lovely"...
Yeah, "what a lovely man" that's exactly the thing isn't it. (laughs)
But you swear a bit on the album.
There's some swearing on the record, yes. (laughs)
A record, as the name says, always encapsulates a particular moment in time. What does "Midnight and Closedown" encapsulate so to speak?
Well, I think we were thinking about what's going on in our country. Which I don't think any of us can face talking about any more. However, it finished up being more about the place we are than the place it is if you know what I mean. So where we maybe started out thinking we were gonna write a whole lot of protest songs, I think in the end we just wrote snapshots of life on this big island. I don't know what it encapsulates really. Maybe just this place at this time.
What's the composition process like with the three of you. Do you always write together or is there a mastermind to Lau?
We write together. It's a very time-consuming process. It kind of involves us as individuals taking underdeveloped ideas and then working them up together as a group. A lot of that process is taking each minute bit of music and trying it in all of the ways that we can think of and then deciding which of them is best, which is why it takes such a long time. Having said that, there has been the odd exception where I've taken complete songs to the band, but that is quite rare.
Kris, you moved down from Orkney to Edinburgh, from the country to the city, working in different projects. How did Lau come together and what were those initial moments like. Did you all get along in the beginning or was it more of a musical friendship which started it off?
I moved down in maybe 95 and we were all professional musicians working with different people, but be knew each other through festival and gig circuits. We were aware of one another and we started working on separate projects together. I was doing some work with Aidan and doing some work with Martin and then it transpired that Martin and Aidan were doing some work together. We thought we would make all of our lives less complicated by making one trio. It was also a musical agreement, in terms of folk music players, where we were musically, what we all thought was interesting. A lot of that were bands that we were listening to that were moving things in an exciting direction. There was an Anglo-Swedish quartet called Swåp, who were around at that time and doing interesting things with music for instance. They were one of the bands whose direction we thought was worth investigating further.
You hinted at it before: Brexit. As it's coming, I don't know what's going to happen, what are your thoughts as a professional musician?
Well, I'm not looking forward to the return of carnets. For anyone who doesn't know, a carnet is where you have to list every piece of equipment that you're carrying with you and its monetary value before you can enter a country to do any work. That doesn't sound that bad, but if you think about the amount of pedal boards, amplifiers, cables, guitars and all that stuff, it's going to end up being hundreds and hundreds of pieces that we need to list for these grumpy customs men anytime we want to go anywhere. Then, there are going to be difficulties with food. I live in the Shetland islands at the moment. It's a really long way from anywhere and there's a real worry that supermarkets might empty, all that sort of stuff. Who knows what will happen. Politicians as things stand, seem to be just trying to sort out some problems within their own political party and they don't really seem to care about any of us. It's pretty weird. I really envy everyone who isn't here right now.
So the carnet story's going to make Lau a strictly acoustic band again.
Either that, or we'll be getting accused of destroying the planet with the amount of paper that we use.
Kris, your lyrics are always very personal and on the new album you sing about the difficult beginnings of becoming a professional musician, life in "god's own country" and fatherhood. In which ways have your songwriting skills or the issues you address changed over the years?
I think I've developed a couple of voices. I'm a singer-songwriter outwith Lau as well, and do some solo stuff. The solo stuff and the writer within Lau are kind of different people, that's been a surprising development. The big thing I think for singer-songwriters is finding a voice. The way what you're trying to say comes across off of a page even. The voice of the writing, like if you're reading a novel you know. There's something about finding a voice that you can inhabit, and I guess I've discovered that over the years more and more. A way to be the person from inside the song.
Can you remember the first time you discovered you had a voice?
I think it was a whole lot of songs at once. Maybe like five or six years ago. I was writing a whole lot of songs for a project. They just seemed to come out one after the other. It wasn't until I'd been singing them for a little while actually, that I went oh, ok, this is me, but it is not me. As if I'd solved a little problem.
So how has fatherhood influenced or changed this?
I guess you care a bit less what other people think about you when you've got dependents. Something changes psychologically where any sort of vestiges of self-consciousness can disappear or be pushed into the background. It may be easier to say the more tender things when you're a parent. It's easier to say "I love you". Things like that are much easier to do for whatever reason.